Best Cryptocurrency Wallet
So you want to engage with cryptocurrency, but you don't know what it is a cryptocurrency wallet and / or what is the best cryptocurrency wallet? Well, in this article, I'm going to guide you through the advantages and disadvantages from different portfolio services — from applications, hardware portfolios to web services. Let's try to find out!

Cryptocurrency wallets are places where all your cryptographic 'keys' (which we will discuss later) are stored.
they are a bit like a vending machine in a public place — anyone can put money into the vending machine, but only those with the vending machine keys can remove the money.
There are many different types of cryptocurrency wallet services. They exist application-based cryptocurrency wallet services, offline services e web based services for you to choose.
When you have finished reading this guide, you will be able to choose the right wallet service for your individual needs, as well as start trading cryptocurrency safely and without worries!
First, let's find out more about what a cryptocurrency wallet actually is.
Best Cryptocurrency Wallet: What is a Cryptocurrency Wallet?
A cryptocurrency wallet is a software program, online platform, or hardware device that contains the keys you use to send and receive various cryptocurrency tokens.
It literally stores your 'private' keys and your 'keys'administrations'- the secure way wallets communicate with blockchain cryptocurrency ledgers.

It also allows you to see your cryptocurrency balances. The interface, the appearance of the software, helps users understand their cryptocurrencies (the how much do they have in different criptomoedas like Ethereum, Bitcoin or Ripple).
The way the blockchain works is that the' ledgers' are updated on all 'nodes' on the blockchain network.
This means that all 'ledgers'individuals are updated simultaneously — a wallet does not store encrypted money, but a record of transactions.
Note: A 'ledger' is another word for a 'database'. The word 'ledger' is much more common than 'database' in the cryptographic world, so you'll hear it often!
Also: A 'node' is what we call the individual computers that run and maintain the blockchain.
Unlike your pocket wallet, your cryptocurrency wallet doesn't store money the way a PayPal account stores funds.
This is the crucial difference between cryptocurrency wallets and other online money accounts.
The Importance of Protecting Your Cryptocurrency
Investing in crypto is not easy. You need get an encrypted wallet and deposit money into an exchange to buy different cryptocurrencies — and we're not even going to talk about bank transfers.
There are so many different moving parts, and when they're working as they should, investing in cryptocurrency can be easy. But if one part stops working, everything stops working.
In the world of cryptocurrencies, your cell phone, hard drive or removable storage becomes your bank vault. this is what the decentralization did. To eliminate the middleman (banks and governments), cryptocurrency has made people more independent, but all of that is at risk.
By making you more independent, it also places full responsibility on you to ensure that your cryptocurrency is secure.
Let's see an example — Meet Cody
To show you how insecure crypto wallets can be, I'd like to introduce you to Cody Brown. Cody is a cryptographer, investor and commentator. Even so, he managed to lose $8.000 in 15 minutes.
Your story should make everyone understand why cryptocurrency wallet security is important.
Cody received a text message at 23:31 pm. His mobile operator texted him saying he was talking on the phone to customer service and that a new payment method was added. This surprised Cody because he wasn't on the phone with the cell company.
He was worried, so he tried to call his cell operator, but no one answered. In real time, he watched his phone suffer a ataque cibernético. He saw his Gmail account being accessed and his cryptocurrency wallet being hacked.
He saw Ethereum, Litecoin e Bitcoin being sent from your wallet to the hacker's wallet address. definitely not this that you wish when choosing your best cryptocurrency wallet.
It can happen so fast! This occurs daily, then you need to know how to protect yourself and keep your cryptocurrency safe.
Having a really safe place to store your cryptocurrency is , which is important. Your cryptocurrency wallet is your friend when it comes to making your cryptocurrency investments safer. The next section will discuss the advantages and disadvantages of the different portfolios available.
Different Types of Cryptocurrency Wallets
Do you want to store cryptocurrency on a smartphone, computer or offline? There are several different ways to own a cryptocurrency wallet.
This section will describe the different wallet technologies available, the advantages and disadvantages of use them.
Hardware Wallets
hardware wallets are one of the safest ways to store investments in cryptocurrencies.
They are known as "storage cold". That means it's offline and it's safer than storage portfolios "hot" (like software wallets or web wallets). So, in my opinion, this is the best type of cryptocurrency wallet to choose.
The hardware wallet differs from the paper wallet in that it offers high integrated security. The hardware wallet, which looks like a USB flash drive, has advanced security.
This means that the device cannot be accessed by people without the correct password. This helps to greatly improve security.
However, keep in mind that hardware wallets also have disadvantages. If they get corrupted, you won't be able to restore them.
Also, since hardware wallets are physical devices, you can lose them. However, recommended cool wallets like Ledger Nano S provide the seed word that can be used to restore it.
Price is another drawback. The rates for paper, web, or app wallets are much lower than those for hardware wallets.
That's because you're buying digital security. It is a USB drive with excellent memory and security. They start at $70-$99+, and some cost upwards of $2.000 dollars!
If you plan to trade cryptocurrency on a regular basis and want an offline wallet (cold storage), hardware wallets are a good choice.
Remember, this is like owning a safe. You need to remember the access code because no one else can help you access it if you forget the code.
Ledger Nano S
Ledger Nano S is one of the most Popular e reliable hardware portfolios. it supports over 1.500 cryptocurrencies and continues expanding the list. The main reason why Ledger is so recommended is security.
ABSTRACT
The Ledger Nano S hardware cryptocurrency wallet offers high-level security through a secure chip and proprietary operating system.

It gives investors control over their private keys and is backed by the biggest name in the industry.

Investors can store more than 1.100 cryptocurrencies and tokens in Ledger Nano S, with 23 cryptocurrencies supported directly by Ledger and the rest supported by installed third-party applications.
POSITIVE
An affordable cool wallet
Private keys never leave the device
Supports over 1.100 coins and tokens
NEGATIVE
Limited storage space for crypto applications
The screen is small and not touchscreen
GALLERY
Like other cool wallets, the Ledger Nano S keeps your private keys on the real device — offline, which means there is no need to worry about cyber attacks.
You must also select a PIN code and get one 24-word retrieval phrase, needed in case you forget a PIN or lose your device.
The Ledger Nano S has a improved version called Ledger Nano X. It looks almost the same, however it has a bigger screen and some additional functions that improve usability. Ledger devices are made of stainless steel, which makes them resistant to physical damage.
The Nano S Ledger costs only $ 59, while the Ledger Nano X is more expensive — $ 119. Even if they come at a price, safety must be paramount.
Trezor wallet
One of the most recommended hardware wallets is the wallet Safe deposit. I could call it my best cryptocurrency wallet.
It's a Bitcoin wallet "à bullet proof" and it's hyper-secure — it supports Windows, Linux, Max and has one of the best Android portfolio apps available for investing in cold storage cryptocurrencies.
ABSTRACT
Trezor is one of the oldest cryptocurrency hardware wallets on the market. First launched in 2014, the Trezor Model T is the company's premium offering, designed to serve HODLers and active traders.

Meanwhile, a built-in touchscreen gives the Model T a premium look and allows you to enter the PIN and password on the device itself, which is very convenient.
POSITIVE
open code
Color touchscreen
Easy to set up and use
Supports over 1600 coins
NEGATIVE
Mobile support for Android only
Requires additional wallets for specific currencies
GALLERY
The Trezor hardware portfolio has full two-factor authentication, a password manager app and é compatible with ERC-20 tokens.
It also supports cryptocurrencies for a variety of different cryptocurrencies, including Dash, Bitcoin and Ether.
It's easy to use, you plug in the USB adapter. You connect through your computer and can reset using the included management software. Total control, total security and total peace of mind. It's also tiny and fits in the palm of your hand.
The Trezor Model T is priced at $169,99. Although it is relatively expensive, this price is worth it.
KeepKey and other recommended hardware portfolio. It has a huge screen protected by a polycarbonate casing and allows you to see the full address of the cryptocurrency without having to scroll back and forth.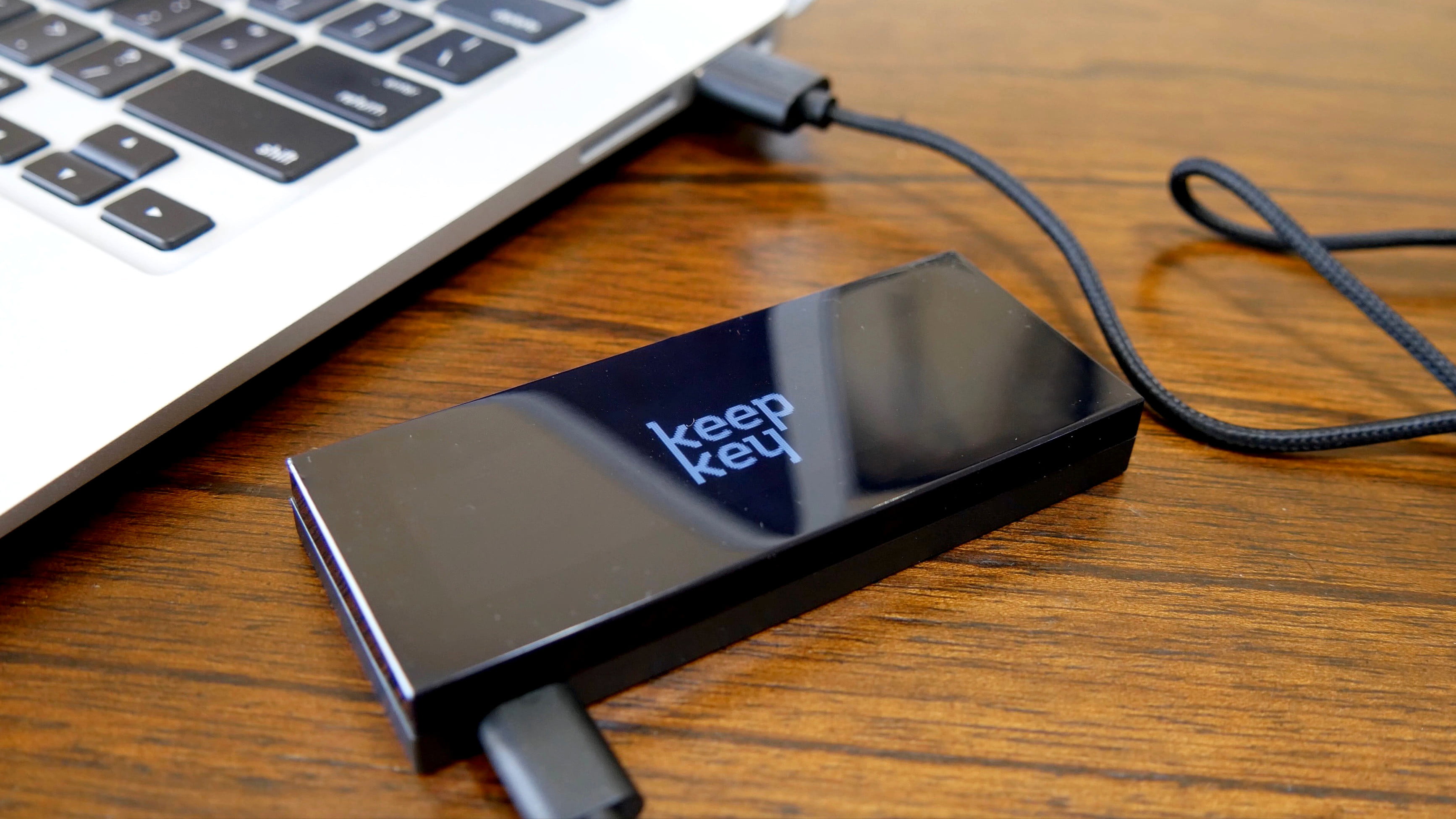 Being a hardware wallet, KeepKey is really secure. It provides a PIN code e recovery seeds.
In addition, it has this unique feature that switches PIN code numbers from time to time, protecting you from malware that copies your code.
KeepKey is priced at only $49, making it one of the most affordable hardware cryptocurrency wallets on the market.
High level security
Touchscreen User Interface
Easy to configure
Can be managed from a mobile device
very secure
Supports over 1500 cryptocurrencies
software portfolios
software portfolios they are "hot wallets". That means they can be remotely hacked because of internet access.
But if you trade in low volumes, desktop software cryptocurrency wallets may be the best cryptocurrency wallet for you!
Coinbase
When it's about Coinbase, most crypto fans know it as an exchange. While this is true, it also has its own software portfolio e can be considered an online or web portfolio (we'll discuss this later in this article).
Even though software wallets aren't as secure as hardware, the good news is that you can download - and you use it totally for free.
Of course, when it comes to buying or selling cryptocurrencies, you will need to go through the Coinbase exchange, which charges fees for transactions (average of 3,75% per transaction), just like any other cryptocurrency exchange (only fees vary).
Coinbase Wallet versions are available for Apple iOS e Google Android users.
If you are doing multiple trades a day, you can keep a portion of your assets in hardware portfolios or in the Coinbase software portfolio and the other portion in the Coinbase scholarship which serves as an online portfolio and trade more easily.
Less Recommended Software Portfolios
Electrum
Electrum is available for download on Windows, Mac OS and Linux operating systems. It's a popular desktop software portfolio, but it is also the most technical.
If you are new to Bitcoin and cryptocurrencies, this software may not be the right choice for you.
The biggest advantage of software portfolios — as electrum - It's the rate adjustment setting.
When the Bitcoin network gets busy, fees increase as people wait for transaction confirmation.
Electrum allows users to change the transaction rate to help speed up the transaction.
Exodus
Exodus is a beautifully designed wallet which supports multiple currency exchanges including Bitcoin, Ethereum, Litecoin, Dogecoin e Dash.
It allows you to manage your keys, presents your investment in graphics easy to understand and it's fully customizable — meaning you can make it perfect for you.
Desktop software wallets are not suitable for everyone. If you have large sums of cryptocurrencies, it would be better use a more secure type of wallet, like a paper wallet or a hardware wallet, like Ledger Nano S and Trezor.
The desktop software wallet is better than the web wallet, but it is not the best type of cryptocurrency wallet available.
Wallets For Mobile Devices

Application-based wallets are incredibly popular. What is the best encrypted wallet app for Android or Apple wallet available? Let's find out.
Binance
Binance is one of the best options when it comes to TOP mobile wallets. While Binance is better known as a cryptocurrency exchange, it also has its official mobile app called Trust Wallet.
The Trust Wallet supports more than 40 blockchains, which means it supports thousands of cryptocurrencies and tokens.
It goes without saying that if you can't find a wallet that supports a specific token, check out the Trust Wallet.
Also, this cryptocurrency wallet is decentralized and does not collect any of your personal data. It has multiple card payment processors integrated into the wallet, so you can buy cryptocurrencies without leaving the mobile app.
Less Recommended Mobile Device Wallets
Mycelium
Mycelium is a mobile bitcoin wallet app. which is really easy to use and convenient.
It has a strong history with Bitcoin and the cryptocurrency industry as a whole. Released in 2008, Mycelium was a pioneer player in the field of the cryptocurrency wallet — helping to make one of the best credit portfolios available.
Mycelium provides its wallet service by through an app for smartphone users. It has a very easy to navigate user interface (layout of the application).
É easy to use the guides provided to switch between different tasks — from sending or receiving Bitcoin to taking care of your security and settings.
mycelium supplies Hierarchical Deterministic wallet security. HD is a smarter way to protect Bitcoin address and Private Keys by providing a all in one Bitcoin wallet security system. Mycelium is often confused with open source.

But actually she uses the Microsoft Reference Source License, which provides limited coverage for the underlying technology code — helping to keep the technology safe.
The biggest disadvantage of Mycelium is the poor customer service and transaction fees. É very limited the customer support and transaction fees are volatile — the fees may be above the market average for Bitcoin transaction costs.
Cryptonator
Cryptonator é a really easy to use cryptocurrency wallet application. It allows instant and direct cryptocurrency payments and exchanges between different cryptocurrencies — of Dash, Monero and Bitcoin.
Cryptonator's popularity is due to the your multi-currency account feature. The app allows you to store, send, receive Bitcoin and other popular currencies from the comfort of your mobile.
Cryptonator is really big in security — that is, you can trust the application. He uses bank-level security technology, the which means it uses professional security systems.
He also uses the encrypted SSL web connection technology using HTTPS Google Approved Web Connection Protocols, along with the 2-Factor Authentication technology and Trusted IP to help provide the best application-based security.
One of the biggest advantages of Cryptonator are the low transaction/sending fees of Bitcoin (At around 0,00010000BTC).
This is below other cryptocurrency wallet providers. This helps make Cryptonator one of the best cryptocurrency wallets services available.
Cryptonator has a bad reputation for customer service. This is a big disadvantage.
People tend to wait long periods for money to be transferred and this can create problems when people contact customer service — waiting and uncertainty doesn't help.
Copay
the cupy was developed by Bitpay, what made it incredibly popular. It's a pure 'comfort' wallet, which means it's very easy to use! The layout — the way the app works and how the user uses it - It's very simple.
The biggest advantage of the Bitpay Copay app is that it has good security — and strong privacy settings — which means you can trust the app.
He uses the latest generation technology with multiple signatures in HD from Bitpay. It's also designed for sharing.
That's what makes it the best encrypted wallet available — you can easily share with friends and family as a joint checking account!
The HD technology Bitpay uses means that you can reset your wallet if something goes wrong. This is the best choice for Apple users over other types of wallets. It's also the best Android encryption wallet available.
The only downside is with customer service (we're seeing a pattern here, aren't we? ).
This is a problem with all app providers / web-based — many are small businesses with hundreds of thousands of users, so customer service is an issue.
Overall, what we found is that cryptographic wallets based on mobile devices can be very useful.
There are security issues, but wallets that use HD and 2FA technologies are really safe.
They use sound security systems and provide reasonable support. The biggest issue is customer service — all of the above examples have pretty mediocre customer service.
Mobile wallets are definitely very useful for on-the-go, but are they the best cryptocurrencies? Let's check the others out before deciding.
Jaxx liberty
Jaxx has a wealth of all kinds of features, the reworked version of the previous Jaxx is suitable not just for cell phones but also for desktops with web extensions.
Unlike the previously mentioned wallet disadvantages, Jaxx Liberty's customer support is one of its perks. Well-trained professionals are there to make the user experience even easier.
The wallet allows you to customize and adjust to show only the tokens and coins you want, not all at once.
The interface is designed to help you understand numbers through diagrams, dashboards and graphs.
In order to keep all your cryptographic belongings safe, Jaxx Liberty gives you full control over your keys and you can import or export to your other wallets.
This means that it's all up to you, and the portfolio is not included in the process and is not responsible for its actions.
Just like any other wallet, Jaxx Liberty too apply fees to your transactions.
Although it is worth mentioning that these fees are not charged by the portfolio itself, they are sent to miners in the network.
In conclusion, despite the fact that there are no 2-FA features, the Jaxx Liberty definitely deserves your attention.
A supportive friendly interface and a well-trained customer support will answer all your questions immediately.
Web wallets
Web wallets are not completely safe — you never have access to your own private keys. At best, they are a temporary place for moving cryptocurrencies from one place to another.
However, it is crucial to mention that it all comes down to the question — how much do you trust a provider?
Coinbase
One of the most reliable suppliers is the Coinbase. As mentioned earlier, it has software and online portfolios.
Coinbase is a popular online cryptocurrency exchange that allows you to buy and sell cryptocurrencies with fiat currency (USD, EUR, etc.). When you buy your cryptocurrency on Coinbase, it is stored in a Coinbase web wallet.
The bad thing about web wallets is that they are much riskier than software portfolios — if Coinbase's server gets hacked, you could lose all your cryptocurrencies. However, as far as is known, the Coinbase has never been hacked before.
In the last years, Mt. Gox e coincheck, two major cryptocurrency platforms have been hacked. During these invasions, hundreds of millions of dollars worth of cryptocurrencies were lost. people lost their criptomoedas and the Mt. Gox company went bankrupt.
Therefore, if you decide to store your cryptocurrencies in online wallets, you should at least choose a reliable provider. Coinbase is one of the most reliable options.
To be clear: I You are never would recommend leaving your cryptocurrency in a bag!
Paper Wallets
paper wallets are one of the safest ways to protect your cryptocurrency — are an offline way to maintain a cryptocurrency.. Simply put, it's literally printing QR codes that represent your public and private keys.
This offline safety net means you have absolute control over your cryptocurrency investments. This is one of the best cryptocurrency wallet formats available!
However, paper wallets are not suitable for everyone. Whether you trade daily or weekly, having paper keys will become very difficult to manage — you will use many QR codes.
The paper portfolio is best suited for the long-term cryptocurrency investor. If you plan to buy large amounts over the long term, using paper wallets can give you the utmost peace of mind as it is one of the safest ways to store your cryptocurrency!
Services like BitcoinPaperWallet.com allow users to print Bitcoin paper wallets for the best Bitcoin offline storage solution.
You can buy a counterfeit proof offline paper wallet with full QR code availability. Services like BitcoinPaperWallet.com can provide long-term Bitcoin investment security.
You should note that paper wallets need to be stored securely.
Any damage caused by water, environment or fire could result in the complete loss of your cryptocurrencies.
You can lose everything — but this is true with all wallets, if they are hacked or lost.
It's a matter of Be responsible — take care of your codes. We recommend storing a copy of your paper wallet with a trusted family member, if possible.
That way you have a backup of your private key if the original is lost or damaged.
Conclusion and Recommendations
This guide has tried to bring together all the different portfolios available to cryptocurrency investors. Every cryptocurrency investor, trader and user will need a wallet, so it's up to you to choose your best cryptocurrency wallet.
What we found was that the "hot wallets" are not 100% safe — they are only good for small businesses.
Examples of "hot wallets" include desktop software wallets and application / web based wallets. "Cold wallets"On the other hand, they are much better at holding cryptocurrencies for the long term. Examples of cool wallets include paper and hardware wallets.
I believe that hardware wallets are the best type of wallet for cryptocurrencies, with the paper wallets not far behind!
Remember to think about wallet security before ending up a victim and having your wallet hacked like Cody Brown did! You don't want your hard-won cryptocurrency stolen, do you? Take responsibility, use good wallet services and keep your cryptocurrencies safe!
The contents published on this website are not intended to provide any type of financial, investment, trading or any other form of advice. Forexdigital.net does not endorse or suggest that you buy, sell or hold any type of cryptocurrency. Before making financial investment decisions, consult your financial advisor.
Related Posts